Advantages of EPDM rubber floor
1. Moderate elasticity: good elasticity and excellent shock absorption performance can protect the athlete's leg joints.
2. Strong anti-slip property: The pavement has excellent anti-slip performance and high friction coefficient.
3. Anti-aging: It is not affected by ultraviolet light, ozone, wind and rain, and it is no faded .it can maintain bright colors for a long time and has a long life. Impact resistance: It has a strong elastic layer and a buffer layer, which can absorb strong impact.
4. Diverse colors: colorful, can be assembled in a variety of colors.
5. Foundation conditions: The basic requirements are simple, even poor foundations can be paved and the adhesion is good.
6. Good water seepage performance: no water pits after rain stop, and can be put into use.
7. Surface: not easy to foam.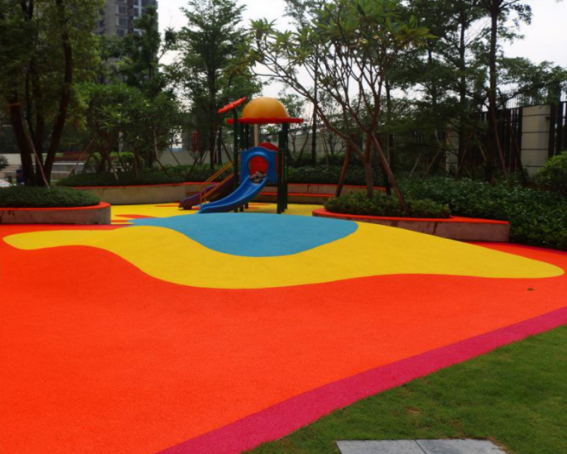 Characteristics
1. Bright EPDM color layer can be designed to be lively, happy, image and other patterns without seams, once formed, the overall feeling is strong.

2. Anti-ultraviolet, stable color, no fading.
3. Can play a buffer protection role, not easy to burn, anti-aging, not easy to breed microorganisms.
4. Strong hydrophobic properties, keep the surface dry all the year round.
5. Maintenance is simple, clean with water or ordinary cleaning.